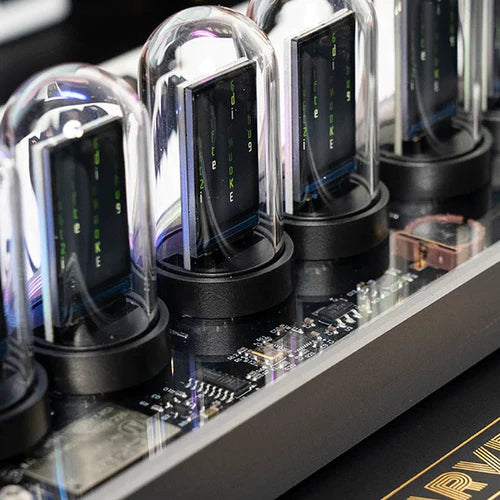 Fawes IPS Nixie Tubes Digital Table Clock
---
Our IPS Nixie tube Clock is definitely a must-have for collectors or retro lovers, blending to perfection a vintage design with modern technology. This digital table clock comes with LCD screens that simulate the IPS tube glow, and the best is yet to come! We adapted the classic clock design to modern days, allowing you to choose from more than 20 display options or even choose and customize your own clock image.

Also, the clock can be used as an electronic photo album in which you can upload your favorite pictures and display them vividly on your desk or nightstand. Easy to use and stylish, this IPS Nixie tube clock has everything you need to add a touch of color and a retro vibe to your home

NIXIE CLOCK SIMULATION

The FAWES IPS nixie tube comes into an upgraded version, the perfect blend between innovative technology and vintage elements. It comes with 6 LCD screens covered by a delicate glass tube, that simulates the nixie tube clock display and glow that we all know.

MULTIPLE DISPLAY OPTIONS

This smart digital clock allows you to modify the clock images, so you can choose from more than 20 display options. The nixie tube features smart software that supports DIY creations, allowing the user to customize his or her display.   

SMART DIGITAL CLOCK

Our upgraded digital desk clock not only displays the time and date but also pictures of your choice. Choose your favorite photos with friends and family, upload them via our software and you have a smart electronic photo album on your desk or nightstand   

User-Friendly Design

The  vintage clock is USB powered and comes with a built-in battery-backed RTC chip that will maintain to display the time even if the power is lost. The clock supports a 12/24 hours format with high accuracy, it is very easy to install, and comes with all the needed instructions to control, change the settings, or display options with ease.