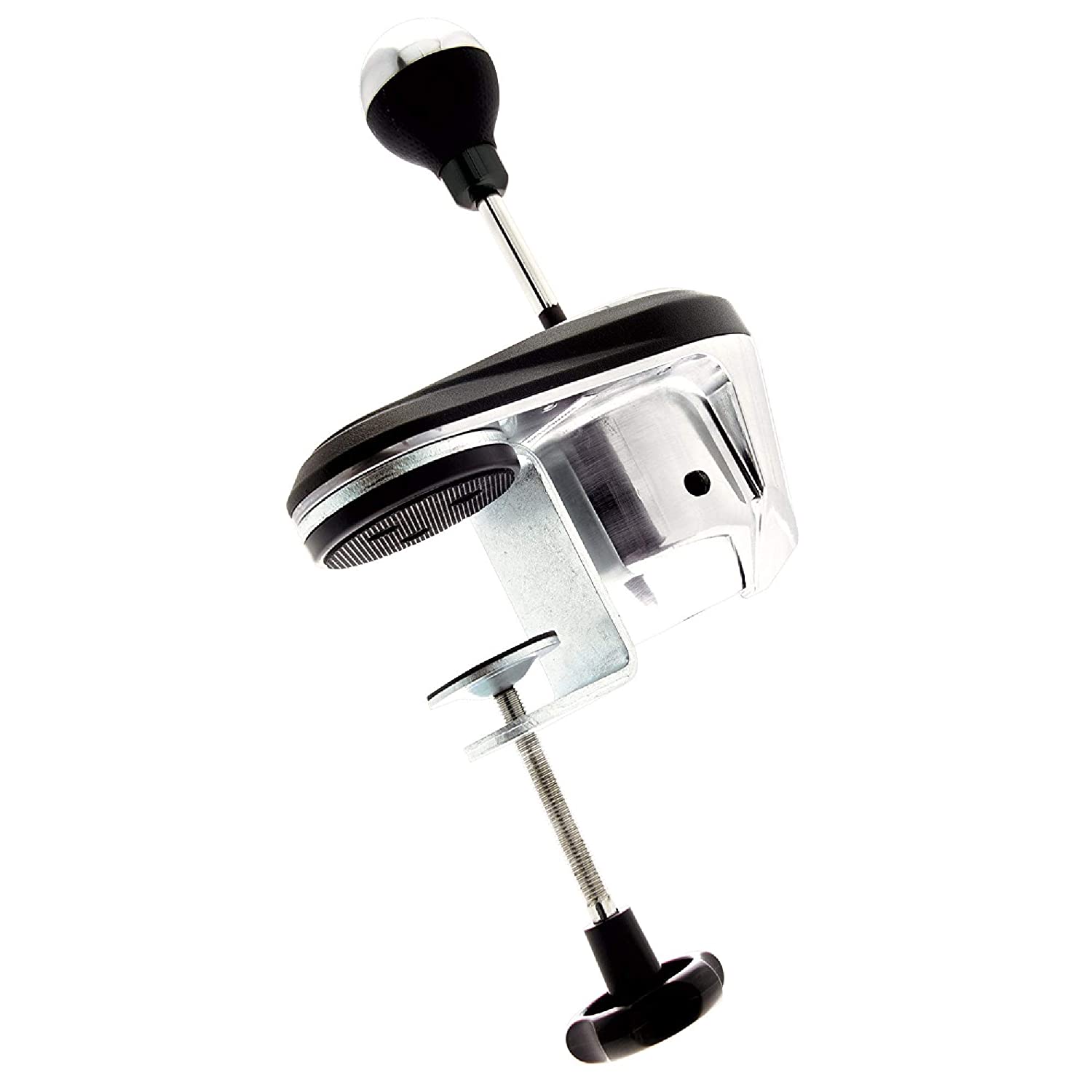 Thrustmaster TH8A Shifter
---
REALISM AND AUTHENTICITY

13 cm tall gear stick with knob
Realistic gear-shifting feel
Detachable knob
Compatible with real universal knobs (available in car tuning shops)
2 shift-plates included: "H"-pattern (7+1) and Sequential (+/-)


STURDINESS AND PRECISION

100% metal internal mechanism
100% metal gear stick
100% metal clamping system
H.E.A.R.T HallEffect AccuRate Technology™



Precision that won't decrease over time (contactless magnetic sensor)

No tact switch and no potentiometer (for unlimited product lifespan)

 

 ADAPTABILITY AND COMFORT

Upgradable firmware, and internal memory with adjustable gear-shift travel to suit your driving style (software available for download on PC)
Adjustable resistance when shifting gears
Shift-plate position and rotation adjustable by 360°
Clamping system position and rotation adjustable by 360°
Optimized clamping for any support surface

Tables or shelves from 1 to 55 mm in thickness
Cockpits (built-in screw threads + removable clamping system)

 
VERSATILITY

Unique design* allowing for 2 different driving styles
"H"-pattern (7+1)
Sequential (+/-)

USB and/or DIN connectivity
On PC: works with all racing wheels on the market
On PS3™ and PS4™: works with the T500RS, Ferrari F1 Wheel Integral T500, T300RS, T300 Ferrari GTE, T150 and T-GT racing wheels.
On Xbox One: works with the TMX, the TX Racing Wheel and TS-XW.

*     Patent pending
**    Compatible on PC with all games supporting multi-USB and gearboxes
**    Compatible on PlayStation®3 and PlayStation®4 with games listed on http://ts.thrustmaster.com/
**    Compatible on Xbox One with games listed on http://ts.thrustmaster.com/

Product Details

| | |
| --- | --- |
| Video Game Platform | PC, Xbox One, Playstation4, Playstation3 |
| Brand | Thrustmaster |
| Features | subwoofers |
| Color | Black |
| Compatible Devices | Computers, Video Game Consoles |
| Assembled Product Weight | 5.3 lbs (2.39 kg) |
| Assembled Product Dimensions (L x W x H) | 12.80 x 10.00 x 6.30 Inches (32.5 x 25.4 x 16 cm) |
| Country of Origin | This item will be import from US |
| Date First Available | April 14, 2021 |
| What is in the box | Thrustmaster 4060059 Playstation3/Playstation4/Xbox One/PC... For more details, please check description/product details |

For increased immersion in any driving game, this add-on gearbox shifter adds a realistic gear-shifting feel and a host of adjustable features. Hall Effect Accurate Technology offers precision levels 256 times greater than most current systems, and it doesn't decrease over time. Adjustable shifting resistance allows you to personalize the feel of each shift, and the unique design allows for both H-pattern and sequential shifting. This versatile shifter is great for any driving game.