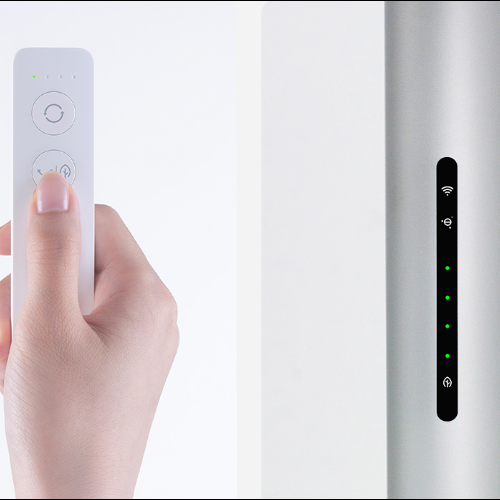 Smartmi Standing Fan 3
---
The Smartmi Standing Fan 3 is a voice-enabled smart floor fan that runs on batteries and can be easily moved from room to room.

PROS

Runs on batteries (in addition to AC power)
Supports voice control
Temperature and humidity sensors
Quiet
Easy to assemble

The Smartmi Standing Fan 3 is a smart new take on the old-school floor fan. It's a stylish, Wi-Fi-enabled pedestal fan that you can easily transport from room to room and control with your phone or voice. It operates on battery power (as well as AC power), and it's easy to assemble and configure. The Smartmi is a relatively small fan that doesn't offer a ton of power, and its integrations with other smart home devices are limited, but it's very quiet and does an excellent job of creating a nice breeze in small spaces. That said, if you require more powerful air circulation and/or support for HomeKit, a smart ceiling fan such as our Editors' Choice, the Hunter Romulus With LED Light, might be a better match.   

A Smart Design

The Smartmi Standing Fan 3 stands 38 inches tall, weighs just 7.5 pounds, and is supported by a round 13-inch glossy white-and-silver base. The front of the base holds a small battery LED indicator that glows solid green for 20 seconds when the battery is at 21% to 100%, glows solid orange when battery life is 11% to 20%, and blinks orange when the battery is at 0% to 10%.

 

Around back is a power port for charging the internal 2,800mAh lithium ion battery pack. The battery is rated to last up to 20 hours when operating the fan at its slowest speed, and should give you close to three hours of power when operating at high speed. It takes around four hours to fully charge the battery, but you can run the fan on AC power in the meantime (or anytime for that matter).

The seven-blade fan assembly sits inside of a round white grille that is 13 inches wide and perched atop a thin silver pole that sports a glossy black LED strip with green lights for fan speed and a white light for Wi-Fi connectivity. The top of the fan assembly contains an on/off button, and on the back of the motor is an oscillation button.

Included in the box are the motor and column assembly, a remote, the base, the fan grilles and blade, knobs for attaching the grilles and fan blade, a base mounting bolt and Allen wrench, a power cord, and a user manual.

The Smartmi fan uses the Mi Home app for Android and iOS devices. It opens to a screen that contains panels for each of your installed Mi Home devices. Tapping the fan panel takes you to a screen with a circle that is stationary when the fan is off and pulses when it is on. The circle is blue when the fan is set to Standard mode and green when it is set to Natural mode. Natural mode uses varying fan speeds to replicate the feeling of an outdoor breeze.

Just below the circle are temperature and humidity readings, but the temperature reading is only reported in Celsius units and there is no setting to change it to Fahrenheit. Below these readings are four buttons: the Power button turns the fan on and off, the Standard button puts the fan into Standard circulation mode, and the Natural button puts the fan in Natural mode. The Level button allows you to choose one of four fan speed presets, with Level 1 being the lowest and Level 4 being the highest. You can also use the slider to manually adjust the fan speed from 1 to 100.

Swipe up to access other settings where you can configure the fan's oscillating angle (off, 30, 60, 90, and 120 degrees), turn the fan direction left or right in small increments, set an off timer, adjust LED brightness and sound volume, and enable a child lock. To access more settings, tap the three dots in the upper right corner of the screen. Here you can create on/off schedules, change the fan's name, update firmware, and create automations to have the fan work with other Smartmi devices such as the Mi Home Security Camera. Missing from the app is a gauge that tells you how much battery life is left.

 

The fan can be controlled using the mobile app, the onboard buttons, and the included two-button remote. It also works with Amazon Alexa and Google Assistant voice commands, but it lacks support for Apple HomeKit and IFTTT applets that would allow it to interact with third-party smart devices.