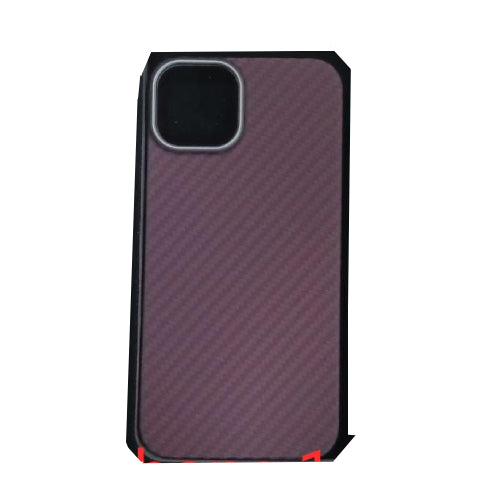 Essentials Carbon Fiber Case For iPhone 14
---
Introducing this resilient Carbon fiber case for your phone. The ingenious design of the case makes it extremely easy to hold. The case is designed while keeping in mind the safety and posh looks of your device.

1. Good signal reception.
2. Designed to fit your phone exactly.
3. Simple, comfortable and easy to carry.
4. It can fully protect the device from normal scratches, dirt, tear and wear.
5. All buttons and ports are easily accessible.

iPhone 14,  Carbon Fiber Case :~

100% Carbon Fiber Material - This material is widely used in bulletproof jackets, tanks, and armored vehicles. It is 5 times stronger than steel at the same mass, but its density is only comparable to that of PC hard plastic. In addition, unlike carbon fiber materials, Kevlar will not interfere with normal phone calls, WiFi links, wireless charging, Bluetooth, etc

Thinnest and Lightest - Its material thickness is negligible, and it is lightweight. Such a thin design makes it almost impossible to feel its existence, allowing you to better feel the original iPhone 14 Series profile. can be easily slipped into the pocket or put into a tote bag without bulging and occupying space

Full Protective- It adopts a more protective and beautiful all-inclusive design without exposed parts in order to better protect the keys and body of the iPhone. In addition, the camera raised lip to protect the precision camera module. In terms of screen protection.

slippery but not Silky - the unique spraying process on the surface not only guarantees a smooth touch like Slipper but also has a certain grip to prevent the iPhone from sliking off easily. In addition, the three protective layers and manual polishing of each layer bring good Anti-scratch performance to avoid scratches by keys, coins, or other hard objects

Exquisite workmanship - The vacuum autoclave forming process is used. The biggest feature of this process is that it can ensure the size of the product is extremely accurate and has good mechanical properties. It can fit snugly to iPhone 14 Series without gaps and looseness, and easily access various interfaces.

Compatibility


Features 

Material: Caber Fiber. 


Adequate layout for buttons and ports.

Shock resistance protects the device from any harm.

Extremely Lightweight Doesn't Add The Slightest Bulk To Mobile.
Precise Cutouts for the Camera Lens.

Designed in a way to make it scratch resistant.