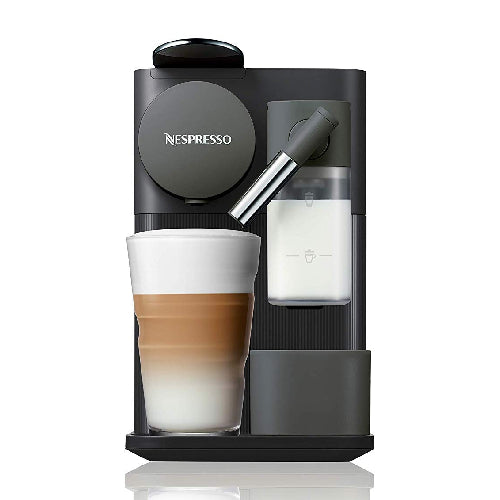 Nespresso Lattissima One Coffee Machine
---
Lattissima One uses Nespresso Original Line capsules to create 4 recipes - Espresso, Lungo, Macchiato and Hot Milk.

Compatible with Nespresso Original Line Capsules
Smart single serve milk system with easy refill top
Compact and intuitive, with 4 easy one touch recipes
Features a compact design with qualitative finishing and material such as the chromed lever and subtle gloss and matte line patterns
1 touch system -Fill the milk jug with the amount you want. The machine will froth it directly into your cup & brew your coffee

Nespresso Lattissima One coffee machine by DeLonghi, Porcelain White

With the Lattissima One, coffee with milk is as convenient as fill, froth, enjoy. Cappuccinos, Lattes, Espresso Macchiatos... Your choice, one button.   To make things even simpler, its single-serve milk jug comes with a detachable lid, so you can easily refill it between preparations. And for even more simplicity, just pop it in the dishwasher when you're done. To top it all, its compact design, chrome lever, subtle gloss and 30% recycled plastic construction will make one with your kitchen counter. With or without milk, it can be coffee, or frothy. As you like it.